Orange Phaseblade
Not to be confused with the Orange Phasesaber, which is crafted from the Orange Phaseblade.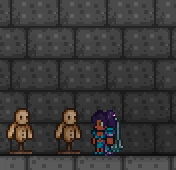 The Orange Phaseblade is a pre-Hardmode broadsword. It is a variant of the phaseblade and the seventh color. It is orange and crafted for amber.
The Orange Phasesaber is the Hardmode upgrade to the Orange Phaseblade.
Its best modifier is Legendary.