Hemo Clicker
Name
Linger
⬤
Base clicks
10
Description
Creates 5 gravity-affected blood globules that linger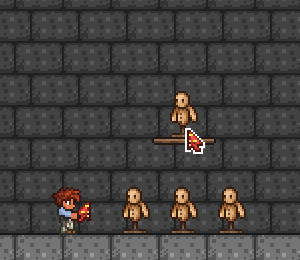 The Hemo Clicker is a Pre-Hardmode clicker that has a chance to be dropped by Blood Zombies and Dripplers during a Blood Moon. Like all clickers, it deals damage at the cursor's position within range and proper line of sight.
It has a radius multiplier of 175% and a default of 10 clicks to activate its clicker effect Linger. Linger creates 5 gravity-affected blood globules that linger for 5 seconds, damaging enemies that come into contact with them.
Its best modifier is Elite.
Clicker Class:

Weapons •
Armor •
Accessories •
Miscellaneous •
Mechanics (
Buffs •
Debuffs )