Umbral Clicker
Umbral Clicker

Name
Shadow Lash
⬤
Base clicks
10
Description
Causes a burst of 5 shadow projectiles to seek out nearby enemies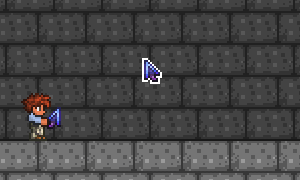 The Umbral Clicker is a Pre-Hardmode clicker that can be found in Shadow Chests in the Underworld. Like all clickers, it deals damage at the cursor's position within range and proper line of sight.
It has a radius multiplier of 275% and a default of 10 clicks to activate its clicker effect Shadow Lash. Shadow Lash causes a burst of 5 shadow projectiles to seek out nearby enemies, dealing damage and inflicting the Shadowflame debuff.
Its best modifier is Elite.
1.1.11:

Buffed Shadow Lash damage from 25% to 50% and nerfed number of projectiles from 6 to 5.
Changed obtainability from crafting to Shadow Chests.

1.1.8: Nerfed Shadowflame duration from 2 seconds to 1 second.
1.1.4: Introduced.
Clicker Class:

Weapons •
Armor •
Accessories •
Miscellaneous •
Mechanics (
Buffs •
Debuffs )