Ocram
Ocram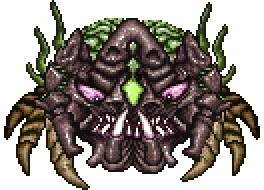 Map Icon
Ocram is a Hardmode boss that is meant to be fought between the 3 Mechanical Bosses and Plantera. It is summoned with the Suspicious looking skull at night in a Hardmode world and is the only way of obtaining Souls of blight.
Ocram's attack style is very similar to that of the Eye of Cthulhu and the Brain of Cthulhu. It has two stages, spawns minions, and flies around, usually near the player. It still spawns minions in its second form, and additionally fires lasers and scythes similar to that of Demons.
Ocram fires red lasers, charges at the player intermittently, and summons Servants of Ocram (similar to Servants of Cthulhu but with higher damage and health).
After Ocram's health is reduced to half, it switches to its second form, during which its damage doubles and Servants of Ocram continue spawning. Additionally: