Inlustris Mod/Frost Drone
Frost Drone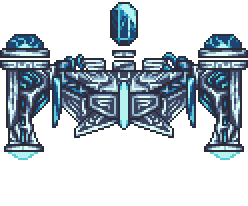 Map Icon
"Frost Drone has awoken!"
The Frost Drone is a Pre-Hardmode boss added by the Inlustris Mod which can be summoned with a Cryonic Core at nighttime.
The Frost Drone can be summoned via Cryonic Core in the Ice Biome. When summoned, it will be spawned far away, coming towards the player slowly.
Projectiles have a chance of inflicting Chilled debuff (Reverie mode only)

They can also inflict Frozen debuff (Expert Mode only)