Gemihive

Gemihive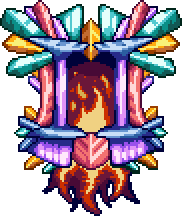 The Gemihive is a Hardmode Miniboss fought in the Hallow.
The Gemihive can randomly spawn in a surface Hallow biome but it's chance of spawning can be increased by using a Cannister of Lights.
The Gemihive will remain non-hostile towards the player until it has been attacked several times after which it will swap between using two different attacks
Firing several Arch Aerolets at the player which can pass through tiles.

Pre-Hardmode Enemies •
Hardmode Enemies
Bosses •
Town NPCs