Brain of Cthulhu
Brain of Cthulhu
Statistics
| | |
| --- | --- |
| Type | Boss |
| AI Type | Brain of Cthulhu AI |
| Damage | 30 / 54 |
| Max Life | 1000 / 1700 |
| KB Resist | 100% |
| Inflicts debuff | Confused |
| Debuff duration | 1 second |
| Immune to | |
Map Icon
Brain of Cthulhu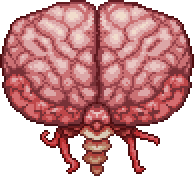 Statistics
Type
Boss
AI Type
Brain of Cthulhu AI
Damage
30 / 54
Max Life
1000 / 1700
3000-4000 / 5700-7700 (with creepers)
Defense
14
KB Resist
100%
Inflicts debuff
Confused
Debuff duration
1 second
Immune to
Map Icon
This is a page about an overhaul of a vanilla boss. The page on that boss itself can be found here.
The Brain of Cthulhu is a Pre-Hardmode Crimson themed Boss. It spawns when players destroy 3 Crimson Hearts in a Crimson world, or when a player uses a Bloody Spine anywhere in a Crimson biome.
Every contact with The Brain of Cthulhu now gives Confused debuff for 1 second.
The Brain of Cthulhu will now constantly create new Creepers in its second phase.
Players will hear loud horrifying screams with every smashed Crimson Heart.
During the fight, the Brain of Cthulhu emits distorted sounds, likely speech.
This speech is a lower pitched and differently cut version of the Icon of Sin's speech in Doom II.
The Brain starts teleporting to random players and shaking rapidly and aggressively, while chaotically talking and screaming. It disappears for a few seconds before teleporting back to its original death position in a violent gore explosion, already dead.
Like all Overhaul bosses with death animations, the Brain of Cthulhu uses its vanilla gore sprites, resulting in nonsensical scenes with piles of the brain's hearts and large chunks of the brain scattered on the floor.