Bush
Bushes are small plants that can appear in Spring,Summer and Autumn.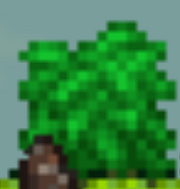 They change depending on what Season it is. During Winter they do not grow.
They are flammable objects and can burn into a charred bush.
They are simply just natural plants and do not effect the gameplay, they are just decoration.
They grow themselves and they do it at random positions and times.